Author:  Marcel du Toit

CEO Leadhomes
23 March 2021
Why are South Africans selling their homes right now?
Selling your home is a long process and includes various moving parts. It is clear that each situation is different, and this important decision is one that every homeowner will need to make for themselves.
Establishing when it is the best time to sell your home is not an impossible task, but definitely, one that requires some careful consideration says Marcél du Toit, CEO of Leadhome.
According to Du Toit, Leadhome analysis shows the reasons why people are selling right now appear to be on opposite ends of the spectrum as some look to downscale due to financial pressures, while those who are more financially secure are looking for their upgrade property.
"Leadhome has seen that the number of people requesting valuations on their homes due to their intentions to emigrate very obviously decreased during the hard lockdown between Q1 and Q2 in 2020, "a direct result of movement and border restrictions", he adds.
"After a short spike between Q2 and Q3 when restrictions had eased, emigration sales continued to decline as the long term financial impacts of Covid-19 really started to come through. This surge in the number of people selling their homes in order to downscale in the first two months of 2021 also supports this notion.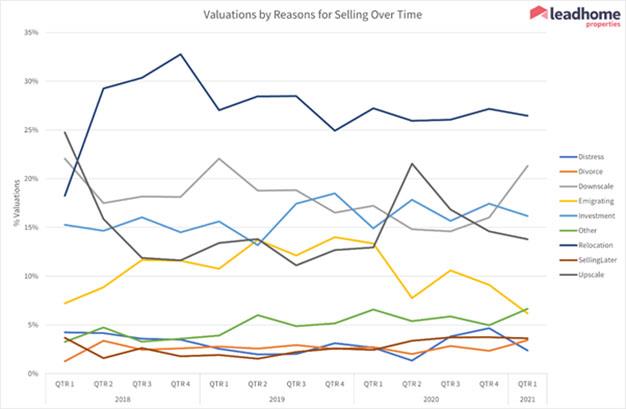 "Interestingly, on the opposite side of the spectrum, and supporting the concept of a 'K-shaped' economic recovery, Du Toit says the second quarter of 2020 saw a big increase in the number of people wanting to sell their properties in order to upscale, move into something bigger and more spacious, as the realities of working from home and home-schooling kicked in."
But why would people only be downscaling now in 2021 as opposed to earlier on in 2020?
Du Toit says it is clear that the impact of COVID19 is really beginning to be felt now by individual households.
"The decision-making process of selling a house is usually a long one and also plays a significant role here – families take a considerable amount of time to decide on whether they sell before actually pulling the trigger; which would have created this surge in sales we're seeing this side of the year.
Downsizing trend expected to continue
We expect to see the downsizing trend continue for the foreseeable future; however we also expect to see a continued trend of people relocating and moving away from current 'expensive' areas to move to areas where you get more bang for your buck. Du Toit pinpoints as Kwazulu-Natal Midlands, West and East Rand of Johannesburg, and northern suburbs of Cape Town as areas to watch in this regard.
Whilst this is 'downscaling' from a cost perspective, it is 'upscaling' from a quality of life perspective.
And just how long are homes taking to sell?
The latest statistics from First National Bank also shows that the national average listing time fell to 67 days in the fourth quarter of last year from 76 days in the third quarter. In addition, the figures show that the average differential between asking prices and actual selling prices has declined to 10% currently from 13% at the beginning of 2020, while the average home price increased by 2,1% last year.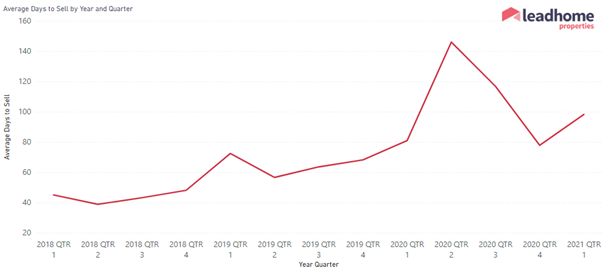 According to Leadhome's data, the average days to sell has been steadily increasing quarter on quarter. Lockdown increased the average time it took to sell, as people couldn't go and view properties that were on the market in order to make offers to purchase.
There was a recovery after markets opened up in the latter half of 2020, indicating that properties were in hot demand, with some listings selling very quickly.
Leadhome has seen a further increase for the first month of 2021, which is expected following the December holiday period. It does seem to be a buyers' market at the moment – indicated by the increase in the average days to sell over the past 2 years. Therefore, sellers who wish to sell quickly will need to price their properties accordingly.
Gerhard Kotzé, MD of the RealNet estate agency group, says the average listing time is a useful measure of whether the market generally is moving in favour of buyers or sellers.
"The listing time of a property refers to the number of days between the time that it is first listed as being for sale, and the time that an offer to purchase is accepted or the owner decides to take the property off the market again. And of course that period tends to be shorter when there is high demand and lots of buyers keen to snap up any well-priced properties that become available – and longer when there is low demand and an oversupply of properties for sale relative to the number of potential buyers.
In short, Kotzé says when the national average listing time gets longer, it is an indication that a 'buyers' market' is developing and that sellers may need to become increasingly accommodating with regard to both price and terms in order get their properties sold.
The original article can be viewed here:
ALSO